A Clean Clinical Line with dmSkincare™
We are very particular about the ingredients we use in our skin care products. All of our skin care products are paraben-, phthalate-, sulfate- and petroleum-free. Our products do not contain harmful chemicals, preservatives, fragrances or dyes. Many active ingredients are obtained from botanicals and are blended to create highly effective antiaging, anti-inflammatory and skin protective benefits. This is not typical of "clinical" product lines available on the market. We don't sacrifice safety to achieve clinical activity in our products.
Botana-gel cleanser
Botana-gel cleanser™ – with white tea universal cleanser & anti-microbial Mild, gel-based, foamy cleanser containing light alpha and beta hydroxy acids for gentle exfoliation. Calming botanicals and aloe balance moisture, while removing oil, makeup, and cellular debris. Anti-microbial ingredients inhibit bacteria formation. Powerful vitamins and nutrients act as antioxidants. Includes a strong combination of vitamins C and E plus white tea.
Key Ingredients: Cucumber Extract, White Tea Leaf Extract
Rx: A great basic cleanser for most skin types, including photo- damaged, mature, dry, combination, oily, and acneic types.
High potenC serum™
High potenC serum™ prevents capillary damage & illuminates skin The essential elements of every skincare program are to support and replace necessary constituents of collagen, elastin and provide vascular protection. high potenC serum™ treats each element, improving skin tone and appearance leaving skin illuminated. This botanical powerhouse formula features sodium ascorbyl phospate, a significantly more stable form of vitamin C, in a polyphenol blend of apple stem cell extract, resveratrol and grape seed extract. These ingredients work synergistically to slow the aging process by making skin more flexible with fewer visible lines and nourished capillaries.
Key Ingredients: Sodium Ascorbyl Phosphate (Vitamin C), Vitis Vinifera (Grape Seed) Extract, Dipotassium Glycyrrhizinate (Licorice), Bisabolol, Resveratrol (Red Wine Extract), Biosaccharide Gum-2, Malus Domestica Fruit Cell Culture (PhytoCellTec™)
Rx: Any skin type, especially for those over 35, with photo damaged skin and visible capillaries.
Eye-radiance K'reme™ – now with Renovage®
Eye-radiance K'reme™ – now with Renovage® · Peptide, antioxidant, and vitamin-infused eye care cream that helps reduce dark circles, puffiness, and signs of aging. This luxurious cream illuminates the under-eye area with light diffusing, natural pigments. By supporting healthy blood flow this cream helps prevent the formation of dark circles and helps reduce pigment deposits creating a brighter appearance. An ophthalmologist approved combination of active clinical and botanical ingredients, the eye-radiance K'reme fights signs of aging for youthful, healthy, glowing skin.
Key ingredients: Tetrapeptide-7 (Haloxyl™)*, Teprenone (Renovage®)*, (Vitamin K)*, Alpha-Arbutin*, Vitis Vinifera (Grape Seed) Extract*, Titanium Dioxide*, Resveratrol*, Arnica Montana Flower Extract*, Calendula Officinalis Flower Extract*,
Rx: All skin types to reduce puffiness and the appearance of dark circles under the eyes. Ideal product to be used as part of an anti-aging routine.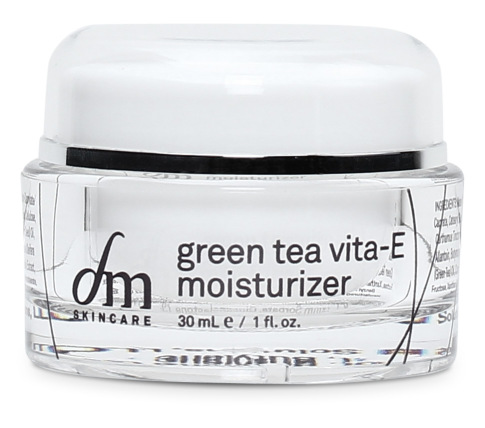 Green tea vita E moisturizer
Green tea vita E moisturizer is a soft whipped gel consistency that hydrates, soothes and calms skin.  Light enough to wear day or night as a moisturizer or as repair for stressed skin. Contains soothing cucumber and calendula extracts and vitamin E to calm irritations.  Green tea extract is a powerful antioxidant appropriate for providing 
protection against environmental stress
Key Ingredients:
Shea Butter
*
, Carthamus Tinctorius (Safflower) Seed Oil, Camellia Sinensis (Green Tea) Leaf Extract
*
, Cucumis Sativus (Cucumber) Fruit Extract
*
, Aloe Barbadensis Leaf Juice
*
, Allantoin
*
, Calendula Officinalis (Marigold) Extract
*
, Tocopherol
*
RX: 
For all skin types as a daily moisturizer.  Use on all skin types when stressed from topical irritations, overuse of anti-aging or acne products, sunburn, etc.
Derma renewal gel calming & anti-inflammatory
Derma renewal gel calming & anti-inflammatory Cooling and refreshing moisture in an oil-free gel which combines the time-tested homeopathic ingredients of arnica, calendula, aloe vera gel, and honey to renew the skin following cosmetic skin treatments, skin irritations, burns, pain, and inflamed areas. This cooling and refreshing gel increases the hydration level and promotes healthy cellular renewal.
Key Ingredients: Honey, Aloe Barbadensis Leaf Juice, Arnica, Calendula, Chamomile, Phytonadione (Vitamin K))
Rx: All skin types, especially useful for post treatment skin.
VitA-clear serum™ oil modulation & anti-aging
VitA-clear serum™ oil modulation & anti-aging This serum helps to modulate oil secretions and encourages healthy skin cell turnover, critical for anti-aging and acne management. A unique ester form of vitamin A found in the Granactive Retinoid Fluid® converts to tretinoic acid in the cells, without causing extreme surface dryness and erythema. This formula contains standard retinol which contributes strong antioxidant attributes. Beta glucan/sativa oat/bran extract reduces irritation and inflammation, as well as speeds up damaged tissue healing and stimulates collagen synthesis; crucial factors for anti-aging and acne support. Lactobacillus ferment, a skin probiotic technology, helps strengthen the skin's barrier and encourages beneficial skin bacteria to flourish and can crowd out P. acnes bacteria. This product is a must in every daily skin routine.
Key Ingredients: Beta Glucan/Sativa Oat/Bran Extract, Lactobacillus Ferment, Dimethyl Isosorbide/Hydroxypinacolone Retinoate (Granactive Retinoid Fluid®), Retinol
Rx: Application for oily or acne prone skin daily to reduce sebum production. Key component of every anti-aging routine.
Clari-tone serum
Clari-tone serum Now with a higher concentration of Actives and Anti-Inflammatory Ingredients. This serum contains pigment lightening agents to block the overproduction of pigment where it is formed in the basal layer of the skin. Kojic acid dipalmitate, azelaic acid, and alpha-arbutin are a powerful combination of clinically tested ingredients that inhibit tyrosinase activity. Antioxidant Vitamins C and E give added protection from environmental damage while salicylic and lactic acids provide an effective delivery system. The pigment blocking agents remain in the cells for a period of time but do not actually bleach them. Exfoliation is necessary to remove old surface pigmentation. This serum has dual uses as these ingredients are also essential in the treatment of acne prevention.
Key ingredients: Azelaic Acid*, Sodium Isoascorbate (Vitamin C)*, Kojic Acid Dipalmitate*, Alpha-Arbutin, Tocopherol (Vitamin E), Lactic Acid*, Salicylic Acid*,
RX: Hyperpigmented skin from skin traumas, sun damage, acne scars, surgery, and other pigmentary deviations. Recommended post-treatment after IPL series for hyperpigmentation to increase the efficacy of the procedure. An ideal addition to acne and anti-aging regimens.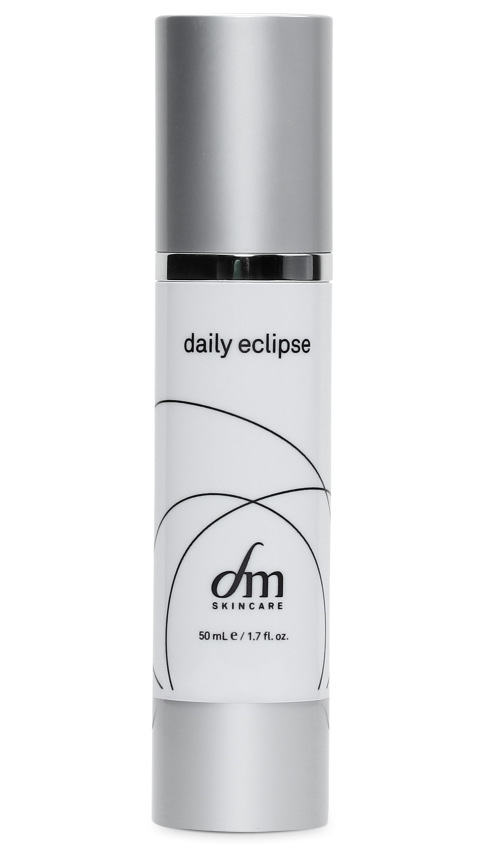 Daily eclipse ® oil-free sunscreen with SPF 30
Oil-free, physical sunscreen that uses no chemical sunscreen ingredients in the formula. Instead, it is formulated with micronized titanium dioxide and zinc oxide for broad-spectrum filtering (UVA and UVB). Lingostem™, an ingredient which comes from lingonberry (Vaccinium vitis-idaea) stem cells, provides another level of protection from Infrared Radiation.  Recent research suggests that IR radiation induces inflammation, premature skin aging, and cancer. Infrared radiation accounts for 50% of the exposure a typical person gets each day, as compared to just 7% coming from UVA and UVB. This mild barrier protection can be used after any strong skin treatment with no worry of burning or irritation, especially around the eyes. It leaves skin feeling smooth without a greasy residue.
Key Ingredients 
Titanium Dioxide 7.5%*, Zinc Oxide12% *
Vaccinium Vitis-Idaea Fruit Extract* (Lingostem™)
, L-Ascorbic Acid (Vitamin C), Camellia Sinensis Leaf Extract (Green Tea)
RX: 
All skin types, especially sensitive and post microdermabrasion, surgery, peel, and/or laser, for irritant barrier and UVA, UVB & Infrared radiation protection. Ideal product to be used as part of an anti-aging routine. May be used on children and adults.